Territory of Higher School of Economics located in historical central area of Moscow near Pokrovskiy Boulevard and Vorontsovo Pole Street.
The main feature of the site is a diversity of time periods in wich different buildings were erected.
We can see a mansion house which was built in the middle of 18-th century with its north wing, reconstructed in the early 20-th century; big seven-story constructivists building raised in 1920; and ex-barracks building with conference hall, constructed in 1980-ties.
Moscow construction periods which are collected in such dense area produces very unusual interesting impression. That's how the main requirement for the reconstruction concept was born - emphasized modernity.


Territory development

Contemporary structure of Higher School of Economics building complex has several very interesting particular qualities besides of diversity of construction periods. First of all entering any building on site one gets an akward feeling of labyrinth-like spatial organization. Planning scheme seems to be very logical, but all buildings have enormous quantity of level changes, open and closed passages and stairs. That leads to the situation in which every man who enter into campus for the first time needs a long-lasted guided tour.
But in spite of inconvenience, that labyrinth gives very intriguing feelling. It can be considered as an analogue of Moscow's structure itself, having the sense of chaos, messed and endless moving.
Based on these facts a decision to simplify process of movement through the university was made. But along with it additional requirement appeared – chaotic image and vibrant character of the new architectural concept.



New layered structure intervention concept




Plans



Longitudinal campus section



Pokrovskiy boulevard elevation



Vorontsovo street elevation



Durasovskiy lane elevation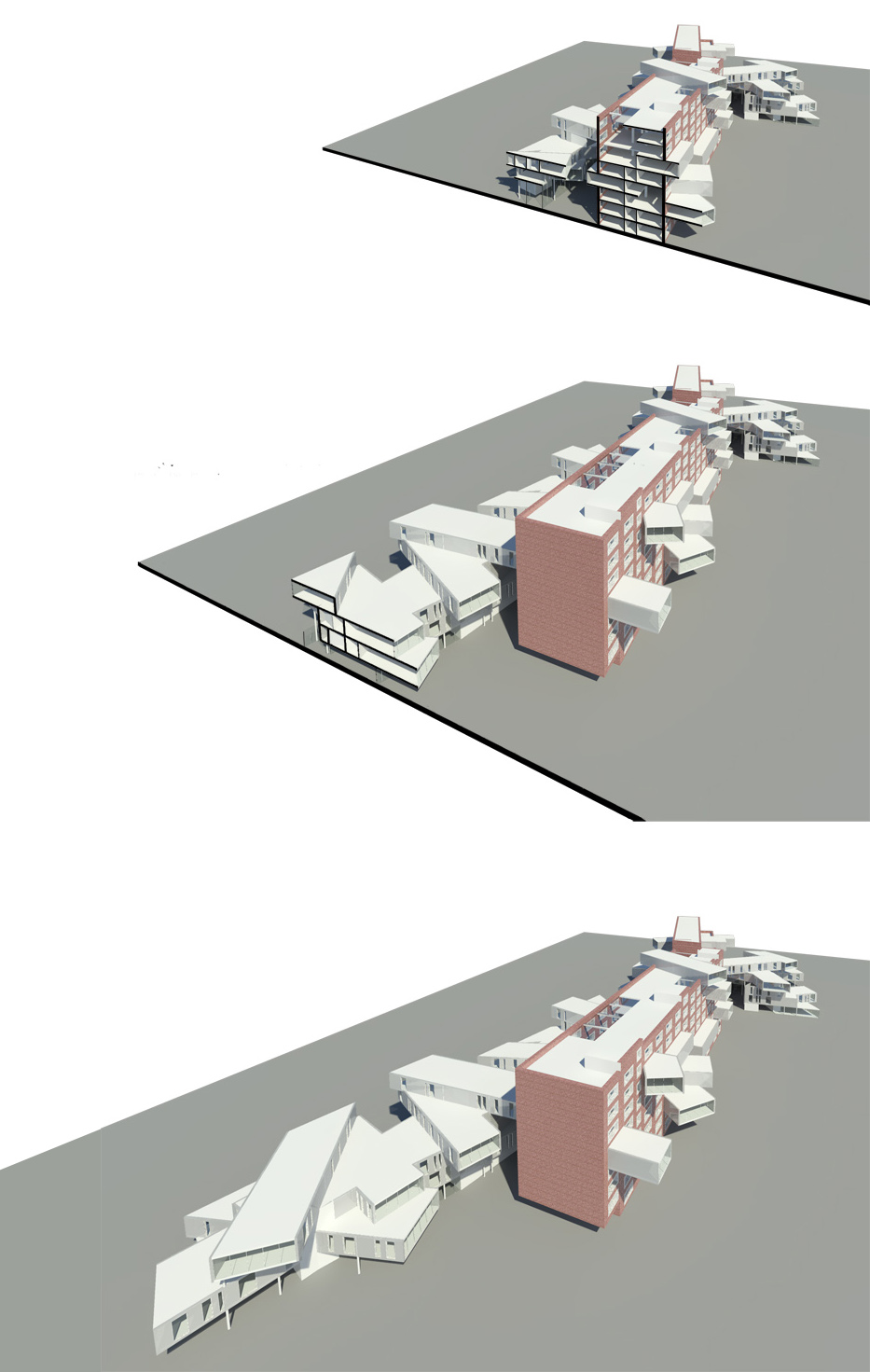 New layered structure intervention into ex-barracks building